'SCARFACE' SHOT DEAD was the front-page headline in last weekend's edition of Searchlight, a twice-weekly newspaper serving St Vincent and the Grenadines. Anthony 'Scarface' Hamilton had been shot dead by police near the washrooms in the courthouse in Kingstown. According to the police, he had been attempting to escape.
Scarface had recently been released from prison, having served 17 years for rape and burglary. Immediately after his release, he was detained for threatening to kill the Prime Minister and other public officials. He was acquitted of those charges, but he was back in trouble again, this time for robbery and assault. He was the fourth person to be shot by the police in St Vincent in the past 10 days, but the only one to die.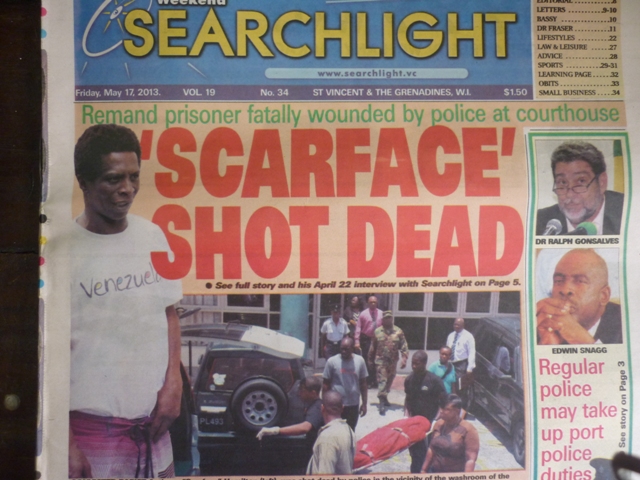 Besides providing a picture of the body being escorted from the courthouse on the front page, Searchlight has three articles about Scarface and the shooting. One is based on an interview conducted by journalists the day after Scarface was acquitted of making death threats. He had warned that nobody should be surprised if he returned to crime if he didn't receive help from the state: "Trouble must come, trouble haffi come, because why?… the man done serve a sentence. He come out, he will need serious help, and the kind attitude and temper he have, he go need serious help." It was true, he admitted, that he had threatened the wife of the superintendent of prisons, but not the Prime Minister. And the threat was serious: "You know when you really go really know me? When one of them feet or hand off they body and you go no way Scarface tell you."
There was also an op-ed about the shooting, under the heading "De Lord answers prayers", written by Bassy Alexander in the local patois. It has a serious message about the lack of rehabilitation for prisoners who have served their time, and their need for accommodation and work. "De Guv-ah-mint should ensure dat on release, ah Prisoner be placed in ah job at one ah de Gov-ah-mint's project, also dey should be ah hostel to house Refugees, ex-prisoners at ah rental, until dey are able to stand on dey feet." But he acknowledges that there was a problem in the case of Scarface, who was playing "ah Mr Jack-kill Mr Hide game"; crying for help on the one hand and threatening "ah number of our female folks" on the other.
All of this reads like a passage from Damon Runyon, the American journalist whose short stories, many of which were published during the era of Al Capone, transformed criminality in New York into a sort of comic opera, featuring such memorable characters as Harry the Horse, Big Nig, Dave the Dude, Hot Horse Herbie and Benny the Blond Jew, all conversing in a colourful and often strangely polite present tense. Runyon was one of my father's favourite writers and his stories gave me endless pleasure when I was growing up.
When I first read the Searchlight coverage of the Scarface affair, I assumed the stories were designed to entertain – like Runyon's – as well as inform. And they do entertain. But that's not to say that the reportage lacks authenticity. Once you've read what Scarface had to say – reported exactly as he said it – you sense his volatility, his viciousness and desperation. This is a compelling piece of journalism, precisely because no attempt is made to render Scarface more intelligible, or his speech more palatable. Searchlight may have a small circulation but it is a brilliant newspaper with real character. It made me realise what a staid old rag London's Evening Standard is. Just see for yourself.